Responsibility and Care: It's How We Operate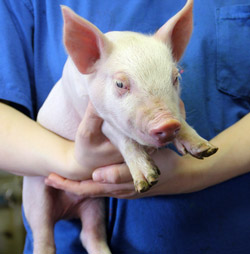 In many ways, our approach to animal care hasn't changed in the 135 years since John and Emma Holden first started farming: do what's best for the animal and practice the best animal husbandry skills possible.
Our success as farmers depends upon the health of our herd, so our very first priority is ensuring that each and every animal receives appropriate treatment and care. We maintain the proper environment, monitor air quality and ventilation, ensure that sick animals receive proper treatment and provide ongoing animal care education for our employees.
Along with our contract partners, we also proudly participate in the We Care responsible pork initiative, an effort led by the National Pork Board and the National Pork Producers Council. Our involvement in We Care is our signed commitment to uphold the industry's highest ethical principles and animal well-being practices.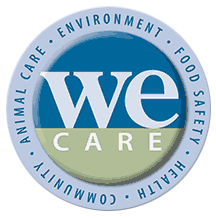 There are six We Care ethical principles to which we adhere:
Produce safe food.
Protect and promote animal well-being.
Ensure practices to protect public health.
Safeguard natural resources in all of our practices.
Provide a work environment that is safe and consistent with the industry's ethical principles.
Contribute to a better quality of life in our communities.
In addition to its six stated ethical principles, We Care also includes the Pork Quality Assurance Plus ® (PQA Plus) program and the Transport Quality Assurance ® (TQA) program.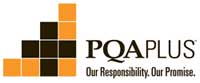 The PQA Plus program promotes humane practices to raising, handling and housing animals. The program ensures food safety and provides detailed information to help producers measure, track and continuously improve animal well-being. The TQA program guides swine transporters, producers and handlers during the movement and transport of animals.
We are also an industry leader in the adoption of a complete premises identification program, a part of the National Animal Identification System (NAIS) developed by the United States Department of Agriculture (USDA). Premises identification helps ensure animal health and disease control by utilizing a nationally standardized premises identification number (PIN) that makes possible the rapid and accurate response to animal-health events.
For 135 years we've been putting the health and well-being of our animals first. It's at the core of who we are as farmers, and it is not something that is going to change.