It's About Partnership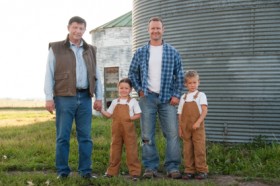 Holden Farms was at the forefront of the swine production contract partner concept here in the Midwest during the early 1980s. Over the past 30 years, we've developed a reputation as an honest, forthright and trusted partner, and have helped hundreds of independent growers maintain a farming lifestyle while providing them with significant financial security and stability.
By establishing long-term working relationships with independent farmers throughout the region, we're able to create win-win situations: we gain a trusted partner to help us responsibly produce high-quality animals, and our partner gains financial stability and the immense benefits of on-site natural fertilizer.
Currently, we work with nearly 200 independent farmers throughout southern Minnesota and northern Iowa. We're proud of the longstanding relationships we've built with our contract partners, and look forward to working with our current partners and others in the years to come.
Our contract partners are a true extension of Holden Farms … they embrace our values and approach, and are absolutely essential to our success." – Kent Holden
For more information on becoming a Contract Partner contact Tyler Holden:
email: tholden@holdenfarms.com
phone: 507.663.0003