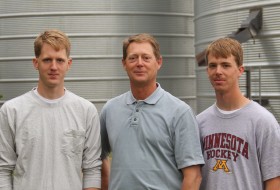 Bob Heers and his family have been contract partners with Holden Farms for nearly 25 years, but they've been raising hogs for even longer.
"We've had pigs forever," says Bob. "My dad raised pigs, so I grew up with them. Even when I left to go to college I still came home every weekend to work. In many ways I never actually left the farm."
Bob met Kent Holden in 1979, but wasn't yet ready to make the move from independent farming to contract growing. The connection proved important, however, as their relationship played a key role in the decision-making process when Bob began to consider partnering with an integrator.
"We were aware of other companies out there that we could do business with, but I knew Kent and knew the Holdens were quality individuals who surrounded themselves with the best people – vets, suppliers, partners," says Bob. "We felt we would be part of a high-quality, top-notch operation."
The Heers family began working with Holden Farms in 1986 and has been completely satisfied with the contract growing experience. "We did try a couple years with another company, but ended up back with Holden Farms," says Bob. "The Holden family has always treated us fairly, paid in full and on time, and is always looking for ways to improve the company. They have a great sense of balance between tradition and innovation: upholding the values of family farming while maintaining a vision for the future."
Bob is a still a long way from retirement, but he's planning ahead. His two sons will likely take over the business someday, and he thinks it's likely they'll continue raising hogs in partnership with Holden Farms. That's three generations of hog farmers working with the Holden family: quite a legacy.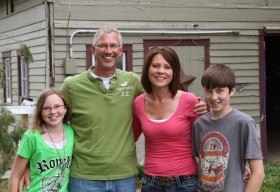 Doug and Christie Wetzel were anything but hog farmers.
Prior to returning to take over his family's farm in 1990, Doug had worked as a stock/commodity broker in the Twin Cities. Christie's background was as a clothing rep who later owned her own retail clothing store. Working with Doug's family they had established a successful farm – growing primarily corn and soybeans – but aside from a few horses had never raised livestock of any kind.
In 2006 the couple began exploring options for expanding and diversifying the farm. "At the time, land and rent prices didn't work with our risk-averse nature," recalls Doug. At the suggestion of a farm consulting group with whom they'd been working, they began to consider the possibility of contract growing hogs.
"We were hesitant at first," says Doug. "What did we know about raising pigs? But the consultant assured us we could handle it and put us in touch with all the right people."
Doug and Christie did extensive research on potential integrators, including touring barns and meeting with company representatives. "We wanted the best," says Christie. "If we were going to get into this, we wanted to partner with a company that shared our vision of success."
After looking into several companies the couple narrowed the list down to two. Holden Farms made their short list based on the company's exceptional financial stability, and ultimately won them over with their exceptional grower support model.
"Holden Farms' representatives really made us feel like we would be cared for and given the assistance we'd need. They have an excellent field service model that gave us the confidence we needed to take the leap," says Doug. "We really don't think the other companies we looked at would have done nearly as much to help us get off the ground."
The Wetzels took that leap in February 2007 when they received their first shipment of pigs. They were overwhelmed at first, but just a few years later they've grown to love pig farming and are building a second barn. The support they get from Holden Farms is a huge part of that: "When we have a question or an issue, we know we can call our field service representative – or even go directly to Kent, Barry or Tyler – and get the answers or the help we need," says Christie.
"This is certainly not what we expected we'd be doing with our lives," adds Doug, "but isn't that how life goes? Now, we can't imagine not raising pigs. Holden Farms has made it possible for us to be successful – they want their growers to be successful and we want Holden Farms to be successful. We're really thankful to be working with such a great company."
Bruce Gustafson and his family have had a relationship with Holden Farms for more than 30 years.
"We go back quite a while," Bruce says with a smile. "In fact, my father was one of the first contract partners to sign on with Holden Farms back in the early 1980s. I was impressed with how the company treated their animals and growers, and actually went to work for Holden Farms in 1987. I worked with them for 16 years, until 2003. Today, we still have Holden hogs on our family farm."
Bruce goes on: "Holden Farms blends the best of the family-farming tradition with innovative new practices. They care about their animals, they care about their people – both their employees and their contract partners – and they care about doing business the right way. We've added six barns since 1989 to our two farms. I can't imagine working with anyone else."