A Win-Win Situation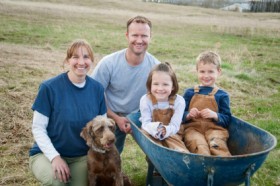 For more than 30 years, Holden Farms has been working with contract partners throughout the region. The framework for the contract partner program that we have in place today reflects the experience we've gained throughout those years.
We've put together a simple five-step process of becoming a contract partner for Holden Farms. Our goal when beginning a relationship with a contract partner is to openly discuss expectations and responsibilities – for both parties – and to clearly lay out the working relationship.
Initial Meeting / Situation Analysis – This first step is crucial in establishing a mutually beneficial long-term relationship. We want to know you, your goals and your situation, and hope that you want to know about us, as well.
Outline of Expectations and Responsibilities – Here, we outline in detail the responsibilities and expectations for both Holden Farms and the contract partner. Essentially, the contact partner agrees to provide an approved facility and equipment, all ongoing maintenance of the facility, and employees to care and manage the herd. In exchange, Holden Farms provides the pigs, all necessary veterinary, nutrition and health care services, transportation and ongoing education and guidance. The result of the agreement is that Holden Farms delivers monthly payments to the contract partner – as well as the opportunity for performance-based bonuses.

Financial Arrangements – Once the contract partner understands and agrees to the terms of the partnership, financial arrangements for the construction or remodel of the facility can be put into place. We're glad to work with contract partners in helping to make financial arrangements.
Construction and Setup – In this step, the contract partner and Holden Farms coordinate the construction and setup to put into place the necessary facility, equipment and supporting infrastructure.
Ongoing Reporting and Maintenance – Once the facilities, equipment and infrastructure are in place and operational, the contract partner is responsible for regular reporting and handling of records, as well as performing the necessary maintenance to the facility and equipment.
We've had relationships with many of our contract partners since we first put the program in place 30 years ago. Our dedication to communication, support, education and diligently honoring the terms of the contract has helped many families and other independent farmers experience both financial security and the peace of mind that comes with working in an industry you love." – Tyler Holden
For more information on becoming a Contract Partner contact Tyler:
email: tholden@holdenfarms.com
phone: 507.663.0003